Foundation Repair Contractor
Service areas include: Macon, Bolingbroke, Warner Robins, Byron, Gray, Forsyth, Perry, Milledgeville, Jackson, Barnesville, lizella
Each year thousands of homeowners are faced with the need for foundation repairs due to settlement. Most settlement is caused by:
Construction upon improperly compacted soils / fill or organic materials / debris
Excessive moisture, poor drainage or flooding
Soil movement or erosion due to slope
Poor initial construction methods or errors
Interior Symptoms:
Cracking in floor surfaces
Sloping floors or doors and windows that don't align
Cracking of plaster or Sheetrock walls
Exterior Symptoms:
Cracks in foundation walls or brick wall
Pulling and separation of windows and doors from surrounding siding and trim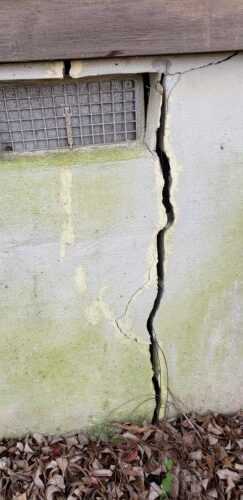 What Causes Foundation Damage?
Damage to your foundation can be caused by a few things, including poor planning before and during the home's construction, drainage problems, plumbing, and Mother Nature. All of these can result in your foundation settling, which is when the soil is weakened and unable to support your home.
If you'd like to get your foundation problem fixed permanently, you'll first need to know exactly what's needed for your unique problem.
At Stapleton Foundation Systems, our team of in-house foundation repair experts is here to help. We have the training, experience, and warrantied products you need to solve your problem.
If you'd like to meet with one of our experts for a home inspection, consultation, and written foundation repair quote, contact us today! Each of our quotes comes completely free and at no obligation.
HELICAL PIERS:
Stapleton Foundation Systems offers a helical pier installation.
The unique advantage of the SFS's support bracket is the Galvanized Steel Lifting Bracket.  This particular bracket has been designed to support well over 100,000 pound of load, making it both strong and versatile. Moreover, our bracket resist the tendency that most other systems have to "pull away" from your home during the stabilization process.  This combined with the unmatched corrosion protection of hot-dip galvanization results in a premium product, far superior to that of any other on the current market.
The finest steel lifting bracket on the market is available only from SFS.  When it comes to YOUR HOME, shouldn't you have the best protection available?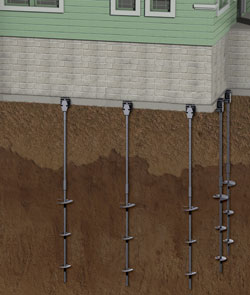 SFS Helicals Offer
Most affordable means of stabilization for most homes.
Can be used in restrictive overhead areas for easy access.
Can be installed on homes on steep slopes and even in crawl spaces.
Working load 20,000 pounds per pile.
Can be also be used in tieback (retention) applications.
Can have one, to four helix flights.
Excellent solution of Chimney Repairs
What Are the Benefits of Helical Piles?
Fast installation
Low cost
Little to low disturbance or vibration during installation.
They can be installed in places with limited access.
No need to remove soil from the work site.
Easily load tested to verify they will do what they're supposed to
They support your house immediately after they're installed in the ground
They can be installed in virtually all weather conditions
They can be used in saturated or contaminated soil conditions
Fully galvanized for superior corrosion protection.
Can be installed on homes on steep slopes and even in crawl spaces.
The piles extend down to load bearing soil (meaning where we put them, they stay put).