Cracked and Settled Stairs Causes and Solutions
Have you noticed cracks or shifting/settling of the porch stairs of your home? No doubt this is causing you concern. As time goes on, these cracks will only get larger, and the amount of settlement will increase. At Stapleton Foundation Repairs, we can help you correct and repair porch stairs settlement and cracks. With the repair solutions that we provide, you can have safe, stable, steps for years to come. Let's take a look at the causes of cracked and settling stairs, and what can be done to fix them.
What Causes Cracked or Settling Porch Stairs?
There are a couple of different reasons that you may encounter porch stairs that are cracking or settling: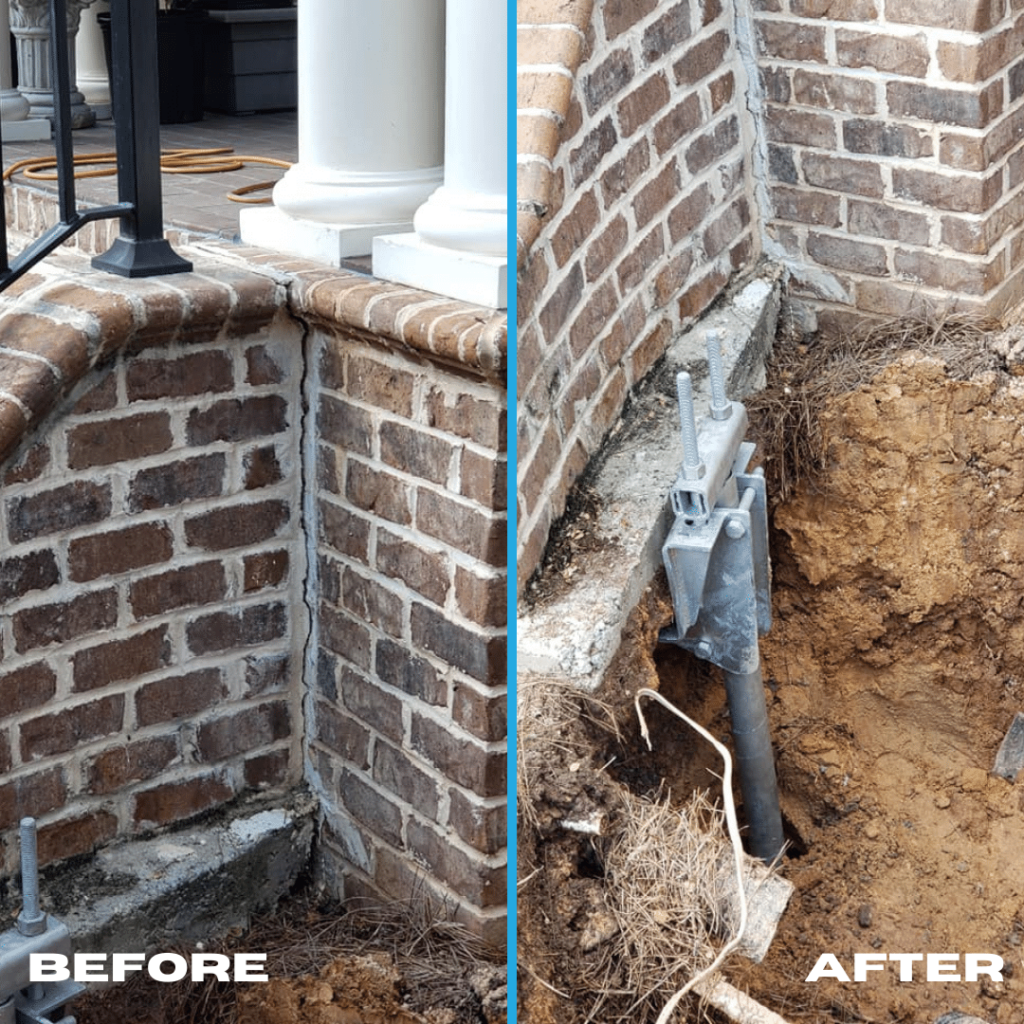 Flooding or heavy rain: When the ground is saturated, then the clay in the soil softens and causes heavy objects such as your stairs to sink beneath the weight.
Poor drainage: Poor grading, clogged gutters, and damaged downspouts can cause water to pool around your home's foundation and stairs affecting the clay in the soil and causing settlement.
Tree roots: Maturing tree's roots can grow into the soils around your porch steps resulting in soil displacement, which can crack and shift stairs.
Shrinking or drying soils: In dry conditions, the clay in the soil will dry causing it to shrink. This will result in settlement and can also cause cracks.
As you can see in the photo to the right, there are cracks along the side of these porch stairs, and the whole structure has settled as well. This case was caused by poor drainage around the porch stairs.
Repair Solutions for Settling Porch Stairs
Galvanized Steel Lifting Brackets are often used to repair porch stairs settlement. This product can be driven deep into the soil to lift and support structures such as the brick stairs pictured above. This provides the stability that they need for years and years to come. Galvanized Steel Lifting Brackets lift the structure back into place and hold it there firmly. With this type of repair, you can have peace of mind that your stairs will be safe! Our team of professionals will work with you to come up with a repair solution tailored to your specific needs.
Contact the Professionals at Stapleton Foundation Repair
If you have stairs that are settling or cracking, do not delay. Contact the professionals at Stapleton Foundation Repair. When you choose us, we honor the trust that you have put into us by doing the very best job possible for you. We value our customers and care about the safety and security of your home. You can rest assured that we will provide you with the best products and services that are available in our industry. Contact us today for a free inspection. We look forward to putting you on solid rock!