Stapleton Foundation Solutions is a team of professionals who provide foundation repair services for Juliette, GA Macon, GA, and the surrounding areas including these zip codes; 31046, 31201, 31206, 31204, 31217, 31211, and more! Our foundation services cover a wide variety of issues for both homeowners and business owners. Our slogan is "We Set You Upon Solid Rock!" because it is our goal to give you a foundation you can depend on. We help to make sure that your home or business' foundation is safe and secure for years to come.
OUR SERVICES INCLUDE: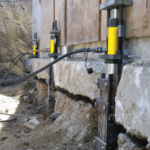 Foundation Repair: From helical piers to push piers, our team can install solutions that will prevent foundation settlement, bowing walls, and foundation failure. We use foundation repair products made with American steel right here in the USA.
---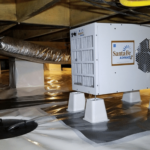 Crawl Space Repair: Sagging floors and wet crawl spaces will be a thing of the past. We install crawl space jacks to support sloping, sagging floors for good. Ensure a dry crawl space with crawl space encapsulation services as well (also known as vapor barriers.)
---
Waterproofing: Water problems lead to foundation problems in your basement or crawl space. We provide solutions for your basement and foundation to keep it dry including sump pumps and drainage.
Check out our Gallery to see photos and diagrams of the work we do! You'll have a better idea of the variety of repairs we offer. You can also give us a call. We'd be happy to set up an inspection and estimate so you have a better understanding!
We offer free inspections to homeowners for our services. Engineered inspections via 3rd party firms with reports for an additional charge. To learn more about our services in the Macon area reach out to our team here at Stapleton Foundation Solutions. We're here to answer your questions about the common foundation and crawl space problems. Find out more about these common problems by reading our blog.